Super Smash Bros. Brawl is a crossover fighting game developed by Sora Ltd. and published by Nintendo. It is the third game in the Smash Bros. series.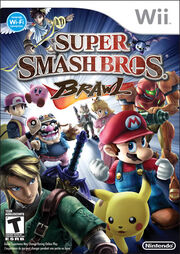 It is also the first Smash Bros. game to have third-party characters, the two being Solid Snake and Sonic the Hedgehog.
Characters
Edit
Robotic Operating Buddy (R.O.B.)
Pokemon Trainer (Squirtle, Ivysaur, and Charizard)
Melee Stages
Ad blocker interference detected!
Wikia is a free-to-use site that makes money from advertising. We have a modified experience for viewers using ad blockers

Wikia is not accessible if you've made further modifications. Remove the custom ad blocker rule(s) and the page will load as expected.